London's Most Renowned Hog Roast Catering Company
Planning a big event or special occasion takes a lot of time and effort, especially when it comes to the catering. However, organising the food for your special event need not be a headache; all you have to do is to let the best hog roast caterer in London take the strain.
We are London's premium hog roast event organisers and have over a decade of experience. When you hire us for your event, you will have happy guests and fantastic food.
For more than ten years, we have provided a first class hog roast catering service in London and the surrounding area. Our team knows how to ensure that your event goes off without a hitch. We know the area and are familiar with the traffic flow across London, so you will not find us arriving late at your event. We pride ourselves on providing a professional, dependable and friendly catering service, and have many repeat customers.
We Provide Great Hog Roasts for all Kinds of Events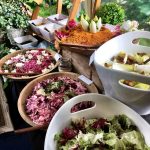 Whether you have a few guests or several hundred, a hog roast is the perfect food option. With a nice free-range hog, it is easy to feed a lot of people and feed them well. Everyone loves a hog roast, and it provides a beautiful feature piece for your buffet.
The chefs who cater for Hog Roast London customers are all experienced. They use the best ingredients to produce succulent roasted meats and fantastic buffet platters and finger food.
Hire a Hog Roast Machine for Your Party

Sometimes it is nice to do the cooking for your guests. For this reason, we hire out hog roast machines to people in the London area. The machine arrives in plenty of time and we show you how to cook your hog or one we provide. When the party or event is over, we will pick up the machine.
Our hog roast party packages start at £250. Call the number one hog roast caterer in London to get a quote and book us. You will pleased that you did when your guests go home happy and impressed by the fantastic food you provided with our help.