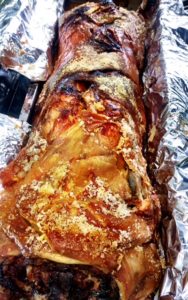 Catering for an event is never easy. There is a lot to remember and so many things can go wrong especially when it comes to the food. However, if you use the Hog Roast Feltham team you can relax because we take care of everything.
Catering for large groups is not easy, but at Feltham Hog Roast, we have been doing it for ten years. Over that time, we have learnt a lot and now know how to produce great food that you and your guests will love.
Hog Roasts – Impressive Yet Simple Food
Only the best local ingredients are used to prepare our dishes, and the majority of those ingredients are sourced locally. Buying locally not only supports the local community it is good for the planet and, importantly, ensures freshness.
The fresher food is the better the results are. Our professional chefs know how to transform these fine ingredients into exciting dishes.
Here is a selection of the foods that we offer; you can see our full range on our menu page:
Platters of finger foods – we offer hors d'oeuvres inspired by the food cultures of the world
Roasted meats – as well as roasted hogs you can ask our chefs to roast other meats for you
Side dishes and salads – for buffet style food the side dishes, relishes and salads are important, which is why we offer a range of them
Desserts – everyone loves a dessert, which is why we offer so many
Let Our Staff Look After Your Guests
Our staff love to serve. When you hire us, you know everyone will be looked after.
We have had the privilege of catering for all kinds of parties and events, and would really like to provide you with the food for your next wedding or other family occasion.
Find Out More and Get a Quote Fast
All you need to do now is to give us a call for a quote, or fill out the form.