Greenwich's Most Renowned Hog Roast Caterer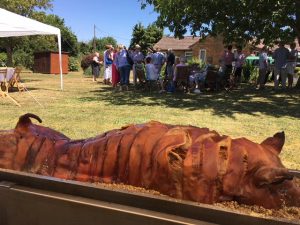 Having a party in Greenwich and looking for a simple way to feed everyone. Well you are in the right place because the Hog Roast Greenwich team can provide you with an impressive feast for a great price.
Hog Roasts – Party Food Made Easy
In the Greenwich area, traditional hog roasts are still very popular, but tastes are changing and we have moved with the times. Over the past ten years, we have tweaked our menus and added new dishes to ensure that we carry on providing food that everyone can enjoy.
We make wonderful buffet foods as well as cook a wide range of meats including turkey, lamb and beef. Our party platters and side dishes are inspired by the great cuisines of the world, so there is something to suit all tastes, including vegetarian dishes.
Helping Hands Make Light Work
No matter how many people you need to feed, we can provide you with both the food and labour to make sure that your party goes to plan. Whether you are catering for a handful of friends or hundreds of guests, we can provide beautiful, tasty food that will delight your guests.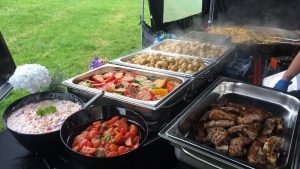 We will also provide waiting staff as well as professional chefs. You can choose between letting your guests help themselves and having all of the food served at tables.
If you want to do it all yourself we can still help because you can hire a hog roaster from us. We will explain how to cook your hog and make sure the machine is set up and working. Best of all you do not have to worry about cleaning it because we take care of that.
Booking is Easy – Get in Touch to Find Out How
To get a quote and book your beautiful feast all you need to do is to pick up the phone or fill in the form.