Hayes's Most Renowned Hog Roast Caterer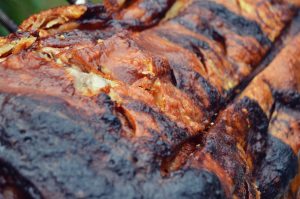 At Hayes Hog Roast, we believe that anyone who is organising an event should be able to relax and enjoy themselves in the same way their guests can. However, that can be difficult when you are juggling everything to ensure all of the food is ready on time, served hot and that the clean up and switch between courses goes smoothly. Fortunately, there is a simple solution. Hire us! We quite literally will take care of everything.
Hog roasts for Weddings and other events
Over the ten years that we have been providing hog roasts in Hayes and the surrounding area we have successfully fed thousands of event guests. In some cases, it was just a dozen people getting together for a family celebration like an anniversary. Other times we have catered for hundreds of people at corporate events or big weddings.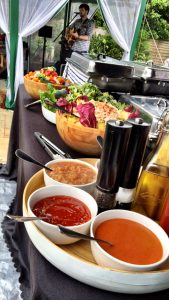 Each time we have catered for an event we have learnt what people like and what they don't. This has allowed us to hone our menu. Today, you will find far more than just hot roasted pork in a bun with applesauce, although that is still a great way to enjoy spit roasted meat.
Our chefs provide platters of canapés, side dishes, desserts, vegetables and salads, so regardless of the tastes of your guests you are covered. There is quite literally something for everyone, and it is you who chooses what we cook and serve to your guests.
Only the best Ingredients and Produce
Only the best raw ingredients are used. We take pride in everything we do to make sure that you serve exceptional food to your guests. Everyone goes home happy when we cater for an event.
Whatever you need, we'll do our best to provide it for you
We know that everyone wants something slightly different, so tailor or service to your needs. To find out more and get help with working how much food you need please give us a ring or fill in the enquiry form.
If you want to rent one of our hog roast machines you can do that too. We will even share some of our cooking secrets with you to make sure that you cook a great spit roast for your guests.