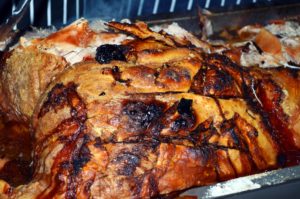 Preparing food for a big event can be quite daunting. You really need to know what you are doing to pull it off especially if you want to impress your guests.
However, if you hire the Kensington and Chelsea Hog Roast team we will take all of the stress out of providing food for your guests.
Spit Roast Hogs and Other Meats
Traditional hog roasts are still popular, but we understand that modern party organisers want something a little extra. As a result, over the past decade, we have adapted our menus and moved into providing other types of food as well as hog roasts.
Today, our chefs offer a range of sophisticated foods including:
Canapés and appetisers inspired by the food culture of the world. Included on our menus are items like wild mushroom bouchees, Dim Sum, Indian finger food, mini Peking wraps as well as British classics like mini quiches.
We will cook any kind of roasted meat you want, which can be either served as part of a buffet, in bread rolls, or as part of a formal sit down dinner.
To accompany the meats we offer a range of side dishes including potato dishes, roasted potatoes, salads from across the world and classics like coleslaw.
Our dessert menu is extensive. Sweet treats for all tastes.
Your Own Classically Trained Chef
We assign a personal, professionally trained chef to every event. He or she takes responsibility for ensuring that everything that you order is expertly cooked and served.
The food we serve is all beautifully presented on a buffet table or, if you prefer, served to your guests at their tables. The choice is yours all you need to do is to let us know what you want and we will provide the necessary chefs and waiting staff.
Book the Catering for Your Event
Booking is easy. You can either fill in the enquiry form or ring us to order. It is also possible to hire spit roast machines from us.