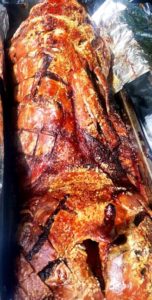 If you are planning some sort of party or other special event, you are going to want to provide your guests with some beautiful food. At Kew Hog Roast, we have both the equipment and experience to help you to do this.
All of our chefs are fully qualified, so when you use us you know you are going to get good results. We can take all of the stress out of organising the food for practically any kind of event.
Hog Roasts – The Best Food For Any Party
Our chefs insist on the finest ingredients. They understand that the only way to get fantastic food it to use the best ingredients. You decide what you want to serve your guests and let us take care of everything from there.
Take a look at our menus. As you can see, there are plenty of different dishes to choose from. Our aim is to cater for all tastes, and to be as flexible as possible, so that you get exactly the food you are looking for.
Hog Roasts and Catering For All Events
A hog roast is a great solution for most events. It is big enough to feed a large crowd, looks good, and most importantly of all, tastes good.
It is versatile too. You can decide whether to serve it traditionally in rolls with applesauce or as part of a roast or even as cold cuts later in the evening.
We also offer a huge range of other foods. You will see on our menu that we offer a range of salads, canapés, side dishes and desserts. There are literally dozens of combinations of dishes to choose from.
Want to Find Out More? – Then Give us a Call
If you want to find out more or get a quote, please call us or fill out the enquiry form.
We also hire out hog roast machines for those who want them.