Redbridge's Most Renowned Hog Roast Caterer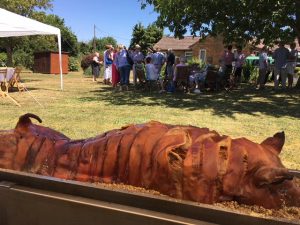 The worry of catering for a lot of people can sometimes put people off holding a party. This is a shame because catering for an event is actually not as difficult as you may think. You do not have to spend time working out what you are going to serve your guests and calculating how much of each ingredient or item you need to buy not to mention cooking and serving it. All you actually need to do is to employ the Redbridge Hog Roast team.
You just need to choose the dishes that you want to serve from our menu. It really is as simple as that we look after everything else. Sorting out the food for your next event really does not need to take more than ten or twenty minutes. A hog roast is perfect for a number of reasons.
Tasty Hog Roasts Your Guests will Love!
A whole spit roasted hog looks impressive, smells marvellous and tastes fantastic. It is possible to feed a large crowd of people even if you are on a budget.
Over the years, we have catered for all types of events. We have been providing hog roasts for over ten years. Our chefs are all professionally trained. They only use the best ingredients, which is why the food looks and tastes great.
The Best Catering at a Great Price
To make sure that we cater for everyone's needs and tastes we provide a big choice of dishes. You will love our Thai, Mexican and Indian canapés and finger foods. Our range of salads, side dishes, sauces and other accompaniments are very popular.
As well as preparing your food, our chefs lay everything out on a buffet table, and we provide disposable plates and cutlery. This means that you only need to take care of the seating for your guests.
We also hire out hog roast machines. You get the gas as well as the spit roaster. There is no cleaning up afterwards because we do that.
Call Today for a Free, No Obligation Detailed Quote
Our catering service is inexpensive. We look forward to you contacting us for a quote.