Southwark's Most Renowned Hog Roast Caterer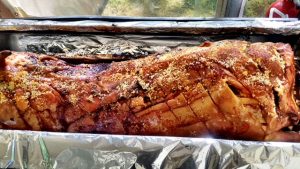 If you are holding a corporate event or party in the Southwark area, you are on the right site. You have landed on the website of one of the best hog roasters in the area. At Southwark Hog Roast, we have been cooking up tasty party food for over ten years, so know how to put on a great spread.
Hire us and you and your guests are in for a treat. Please read on to find out more.
Let Us Cook You a Hog Roast Fit for a King
Even today, hog roasts are the main event food that we provide. They feed a lot of people, look great and taste fantastic. Roasted hog is not something people can enjoy every day. It is, therefore, still very much a special treat for most people.
Over the years, our experienced team has roasted hundreds of whole hogs, but they can cook a lot more than just roasted meats. On our menus you will find a range of salads, finger foods, side dishes and a range of other roasted meats.
You will after find a range of charcutier meats, desserts and other treats. You just need to choose the dishes you want and leave the rest to us.
Spit Roasts for All Occasions
It really is as easy as that you choose what you want and give us a call.
We will either serve your food as a buffet or as a sit down meal. For weddings, you may want to do both. Provide a formal sit down meal to start with and have us serve a buffet in the evening.
Get a Quote and see how Affordable Our Party Food is
You can call us for a quote and ask us any questions at the same time. We also hire out spit roasting machines.