At Hog Roast Sutton, you'll find us well-versed in many different kinds of catering services, from posh, formal weddings to informal parties in someone's back garden, and everything in-between. We're more than happy to cater whatever and wherever you need, whether that's just a few friends or hundreds of conference delegates, and with many interchangeable menus on offer, you won't have to worry about ensuring that everyone you invite is able to eat our scrumptious fare.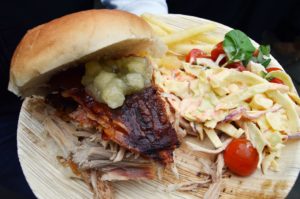 When it comes to variety, we're hard to beat, as we don't only offer hog roasts to the masses. While we can and do, and of course with Hog Roast Sutton as our name, we have to really, but you may be surprised to find out that we can offer so much more too, like barbecues, marinated meats, spit-roasted birds and animals and all kinds of alternatives to suit not only personal tastes but various dietary needs too. From vegetarian to vegans and gluten-free to dairy-free guests, we work hard to make sure everyone is covered, as long as we have advance notice.
We were recently asked to cater a 60th wedding anniversary party at a hotel venue nearby, with 60 guests invited and several needing diets catering. For this event, we would be cooking a centrepiece hog in order to make sumptuous pigs in buns for most people, but we would also need to provide a gluten-free option for two guests and a vegetarian option for one.
When Ruby called us to book the party on behalf of her parents, she was surprised to find out that Hog Roast Sutton pigs in buns are gluten-free as long as we provide special bread rolls for those guests – the other ingredients are already suitable. Happy with us doing that, she then asked about our veggie offerings and was equally pleased to hear that we have various homemade options, including burgers, stuffed vegetables, veggie kebabs and quiches. On this day, we would make the vegetarians our popular grilled skewers, with fresh halloumi and vegetables.
Our team arrived on-site a few hours before the 5pm service, and later that day, once the hog had sizzled away to perfection in its juices, we got ready for the queues to begin and to satisfy the hungry guests with some of our delicious food.