West Wickham's Most Renowned Hog Roast Caterer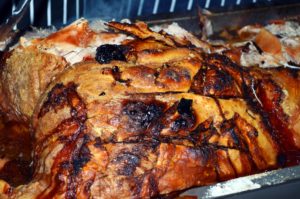 Here at West Wickham Hog Roast our aim is to make sure that everyone attending an event that we cater for has a good time, and that includes the person organising the event. Our team takes care of all of the food, so that you do not have to worry and be running around chasing things up when you should be sitting down and enjoying the company of your guests.
An Aromatic Hog Roast
A hog roast really is something different. It is not a dish that people can reproduce at home, so they love it when they arrive at a wedding, party or corporate event and see a whole pig spit roasting. The smell is like nothing else and it makes an impressive centrepiece, which adds a touch of theatre to your event.
A Bespoke Hog Roast Menu
However, we know everyone is different, which is why we offer a range of different menus. Some people will quite happily eat roasted hog the traditional way, in a bap with applesauce, but others want something else. That is why our highly trained chefs can cook other roasted meats including turkey, beef and lamb as well as others.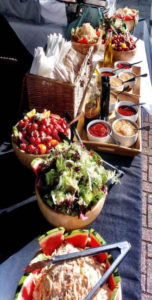 In addition, we provide a range of platters loaded with foods from across the globe. We offer everything from traditional pastries, to satay and Chinese Dim Sum. All of the food that we serve is freshly prepared and sourced locally.
Our team will arrive on site early to set everything up and start cooking in good time. This ensures that all of the food is ready and set out on a buffet table in time for your guests to enjoy. We also offer you the option of waiters. For corporate events and weddings, we also offer front of house staff. Whatever you need to look after your guests we provide it.
How to Order Your Feast
To order, or find out more, all you need to do is to fill in the enquiry form or give us a call.
We also hire out hog roast machines for adventurous cooks to use to impress their guests.