After researching her family tree a couple of years ago, Mary discovered she had distant relatives side in American, and through the power of social media, she managed to get in touch with them. They were thrilled to hear from her and they have stayed in regular contact ever since. This year, they decided to organise a trip to England to meet Mary and her family in the flesh! Mary was terribly excited about meeting her long- lost relatives, and as their trip coincided with American Independence Day, she decided to throw a garden party in their honour! Mary didn't want it to be an American theme party as such though, she wanted to give her American relatives a taste of traditional British cooking at its finest, so she decided to hire Hog Roast Kensington to do the honours!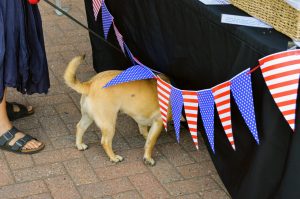 When Mary first contacted us, she was unsure if we would be willing to cater for a small private party for 40 people in her own back garden, as she had only ever had a hog roasts at large outdoor events like summer festivals. We assured Mary that we do smaller private parties all the time, and we might downscale the amount of staff and equipment required, but we don't downscale the quality of our food or service!
Mary was bursting with excitement when we arrived at her house on the morning of the big Independence Day reunion! We had been asked to time the service with the arrival of Mary and her husband for 2pm that day when they returned from the airport with their relatives. As party time approached, our chef ensured slow roasted was absolutely perfect, and our efficient catering assistant was applying the finishing touches to our seasonal new potatoes and locally-grown side salads. The rest of the family were ready and waiting to greet their visitors, and the Hog Roast Kensington duo were ready to welcome them with our own homegrown feast!
There was lot of tears and applause as they made their entrance and Mary's family from the other side of the pond were speechless when they saw the effort Mary had gone to with her Independence Day welcome! They all loved the food and told the Hog Roast Kensington team they will be coming to England a lot more often from now on if they can have one of our hog roasts every time they visit!