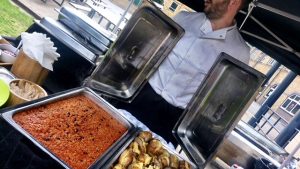 To celebrate Year 13's last day at Surbiton High School in Kingston upon Thames before their upcoming exams, Hog Roast Kingston was asked to provide a hog roast picnic to also include jacket potatoes and a veggie chilli. The fat hog itself would feed most of the 170 guests by way of our Private Party menu 1 – luscious pigs in buns – and there would be loads of baked potatoes and chilli as extra food for the carnivores as well as the main food for the vegetarian guests. We have many choices for any guests who have dietary requirements, so if you're thinking of hiring us to cater an event but you're worried about anyone being left out, fear not, as we ensure that all of your guests are well-fed. We can let you know all about our vegan, vegetarian and gluten-free options in advance, or you can let us know your guests' needs and we will make sure they are catered for.
For this leaving do, our team arrived at the school venue hours before service in order to start roasting the hog. Year 13 is the final year of sixth form and what better way to take a few hours off from studying for A Levels than dressing up in fancy dress and enjoying fabulous food by Hog Roast Kingston in the sunshine with friends, peers and teachers. In addition to our catering services on this day, however, the students enjoyed watching a leavers' video, competed in a bench ball tournament against staff members and spent time writing in each other's leavers' books and taking photos.
When it comes to catering a special occasion like this, Hog Roast Kingston goes the extra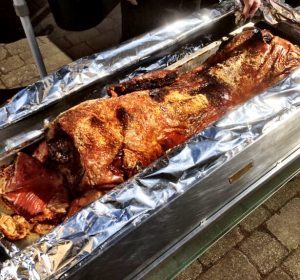 mile to make sure everything is just right, so once our large gazebo was up, we covered the serving tables and then prepared the hog. It's a waiting game once the meat is sizzling away, but once it was ready, and once the potatoes were fluffy inside and crispy on the outside, the chilli was perfectly cooked, and the bread rolls, wraps and sauces were all done, it was time to serve lots of hungry guests.
The school has a traditional balloon launch annually on Year 13's last day and this day was no different, and as the balloons were released, we cleared away and left the leavers to say their goodbyes.