Corporate seminars can be used for many purposes, such as showing off a new product, sharing current ideas or interacting with other companies in the industry. The way you choose to host your seminar is up to you and will likely depend on the purpose and size of your event. whatever catering style you require, Hog Roast Bankside have an option that is right for you!
Recently, Hog Roast Bankside was hired to cater for the annual corporate seminar hosted by a Leicestershire charity. The charity uses these seminars to present and share fundraising ideas with their chairs and sponsors, as well as an opportunity to feedback on the work that they have achieved over the previous 12 months. The event ran in the morning, ending with a delicious lunch provided by Hog Roast Bankside. We had been asked to offer a light lunch, with our slow-roasted pig menu being the perfect choice.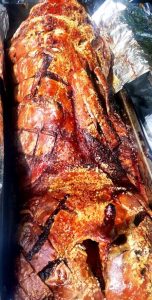 On the day of the event, our catering team arrived early in the morning to cook and prepare the pig. Slow roasting takes an average of 6 hours, although this can vary based on external temperature and the size of the pig. While the pig was roasting we prepared the accompaniments: homemade applesauce, crispy crackling, and sage and onion stuffing. We were also providing sweet potato fries and home style chips to create a perfect lunchtime meal.
Once the seminar had ended, the guests queued at our buffet station to receive their lunch. We served the lunch buffet style since it is an efficient and cost-effective way to feed a large number of guests. The guests could choose between fresh bread rolls and wraps, as well as deciding on which sides they wanted with their meal. This meal went down a treat and was enjoyed by every guest in attendance!
Hog Roast Bankside cater to events of all shapes and sizes across the country. To book your catering today, simply let us know your party size, location and date and we can begin to plan your perfect menu. We hope to hear from you soon!