Think of the scenario, you have booked Hog Roast Addington for your birthday bash this coming Saturday, the weather forecast until now has been bright and sunny however, it has suddenly changed to 100% chance of precipitation with 15mph winds, you are suddenly in despair. Although, you shouldn't be! Hog Roast Addington can cater in any weather. Rain forecast? Hog Roast Addington will turn up. Snow forecast? Hog Roast Addington will show up. Wind forecast? Hog Roast Addington will be there. You can rely on us.
For events such as the classic hog roast menu with all the trimmings, a single 3 by 3 metre gazebo will be popped up ensuring that all the equipment fits under and making sure there is room for your guests to fit under when receiving the food. We can pop these gazebo's right next to doors, so your guests do not get wet.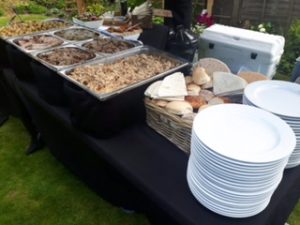 If you have a bigger menu than a traditional hog roast for example, a Hog Roast Addington's gourmet BBQ menu, Southern Slow menu, or the Alfresco menu then two gazebos' will be brought giving more space for your guests to fit under and keep dry.
The wind is probably Hog Roast Addington's most challenging weather however, with gazebo weights and strings to tie the gazebo down with, it usually takes the wind head on.
In the past, events where the organisers don not trust the British weather (well who does?!) have requested an extra gazebo from Hog Roast Addington so that their guests have the outdoor room needed.
When it comes to the simple yet delicious hog roast, it can be served inside. The machines that Hog Roast Addington use have no open flame so are safe to use indoors. The machines also have regular gas checks again reassuring the safety of the use of it indoors. If your venue does not want the machine indoors, then Hog Roast Addington can cook outside and serve from chafer dishes inside no problem.
Don't let the weather get in the way of your celebrations, Hog Roast Addington can handle it.