Where does the time go eh? Not long ago we were ruing missing out on a lot of the festivities for Christmas last year due to the global pandemic, and yet here are again already back at Christmas once again, and this time nothing is taking it away from us!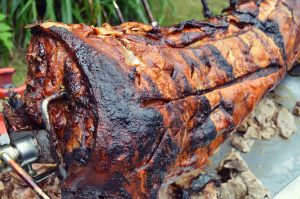 If like the rest of us this period has crept up on you and you're in a tizzy trying to sort Christmas presents for all your beloved friends and family members then not to worry, Hog Roast Elstree has you covered! Expensive jewellery, the latest tablet, or video game, or designer handbag is all well and good to receive at Christmas, but what could possibly be better than the best gift of all – food! With Hog Roast Elstree you can gift the delights of exceptional hog roast dining to your beloved – it might even make next year's Christmas dinner even better! We know you love the taste our prime hog roasts, so why not try grabbing a little slice of the bacon for yourself this year by purchasing one of our brilliant mobile roasting units. With a variety on offer you'll be able to find a hog roasting unit ideal for smaller home use, though still with the exact same brilliant results that we get at every event!
For that special person in your life that loves their food and cooking, this is the perfect gift. They'll be treated to a whole new way to roast with even better results than they are used to with their regular oven roast, plus it is a brilliant talking point for any future parties they throw too! If it just so happens that this gift is going to someone in your own home then hey, maybe you'll get the bonus of some brilliant hog roast dinners from now on too – it's a win-win!
Along with selling our machines Hog Roast Elstree are delighted to be able to offer up some of our specialist expertise to help your lucky gift recipient get started. Our chefs can set you up with a day for training as well as tips on where to get the best meats and how to best prepare them. What could be better than that!
Make it a hog-tastic Christmas this year with Hog Roast Elstree today!