Let's be honest, as great as getting Christmas presents is, the real thing we all look forward to on Christmas day is the dinner. After all, what could be better than a big plate of turkey, roast potatoes and veg, maybe some pigs in blankets, stuffing, sprouts, and whatever else you can fit on the plate (and in your stomach!). It's the best time of the year, and thankfully we here at Hog Roast Cricklewood happen to be something of a specialist in that regard.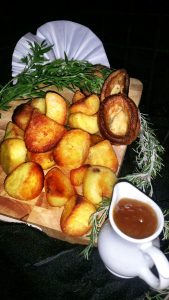 It can be a lot of pressure to be cooking up the Christmas dinner for that very reason. Often you're having to cook for more guests than usual, and with so much coming to the table it's a juggle of trying to get all the right cooking times for everything. I'm sure many of us have been saddled with a dry or turkey or two in our lives – there is just nothing worse! With Hog Roast Cricklewood however you can turn that Christmas dinner stress into a joyful occasion complete with the very best tastes. Your guests will be showering you with compliments all night long by taking our top tips!
Our chef team here are the experts of all things meaty and roasted, and they certainly have some opinions and experiences to share for the best practices. We ourselves take a different approach to the turkey, one that ensures it will never go dry and will be perfectly flavoursome. Ditch the oven cook and try a rotisserie roast for your oven, if you can. We do this with our roasting machines and its results are all the better for it. The slow turning action of the turkey creates a baste for the meat that circulates all throughout your bird. This has the effect of ensuring a juiciness running throughout, and also brings all your seasoning to the fore for even better taste. Rotisserie cooking is also much less hassle, since you can generally leave it to do its thing and trust that the results will still come. This will give you plenty more time to focus on the other foods.
Your Christmas dinner will be the best gift of the year – just make sure to pass on that your secrets came from Hog Roast Cricklewood!