When you're hankering for a hog roast to be featured at your next special occasion, you know that only one from Hog Roast Harlesden will do! Whether you're dreaming of your traditional hog roast centrepiece made into pigs in buns or a plated meal after sizzling away to perfection for many hours, either way, our expert chefs will wow everyone you invite to your party or event and we're sure that they'll all be back for seconds or more.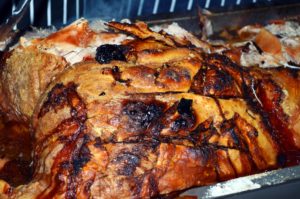 If you don't yet know, our pigs in buns are our name for hog roast rolls, where we stuff hot meat, crispy crackling and homemade apple sauce and stuffing into floury wraps and rolls, while a plated meal consists of your choice of seasonal vegetables and potatoes added to the meat, crackling and trimmings. One of our amazing hog roasts goes a long way to feed a large number of guests and they're loved by many and if you're yet to try one, you'll wonder why you hadn't earlier once you've done so!
While here at Hog Roast Harlesden, we really do make a mean hog roast, however, we also make a mean spit roast in case you prefer something different, and we also have a great range of meat-free alternatives, options for special diets, our own standalone menus and various additional dishes in case you want more than just a main. With our choice and variety, you can ensure that all of your guests are satisfied, so whatever kind of occasion you're planning, we have something on offer for everyone.
If you fancy a spit roast, that could be your favourite meat, such as lamb, beef, turkey or chicken, while meat-free guests can dine on our vegan barbecued pulled jackfruit buns with slaw or vegetarian wraps with halloumi and veg. Standalones include our very own Southern Slow Roast, Loaded Fries, Barbecue or Alfresco, while our additional dishes include handmade canapés as well as starters, sides and desserts.
Call Hog Roast Harlesden today to book in your next party or event and you can impress all of your guests with something delicious but also suitable too.