When you're planning your wedding day menu, you need to ensure that all of your guests can enjoy the food just as much as you and that they're treated to tasty dishes that take into consideration any dietary requirements or personal tastes. You may be dreaming of a Hog Roast Tottenham hog roast to be served as piles of pigs in buns on your special day but you also need a gluten-free option and it may surprise you to find out that we can easily make this suitable by taking along gluten-free rolls and wraps, as all the other ingredients in our signature food are suitable already. Perhaps you also need a vegan or vegetarian dish provided too and we have several delicious possibilities, such as vegan pulled jackfruit buns with slaw or vegetarian skewers.
We allow our customers the flexibility to be able to create their own menu from scratch if needed but we also have several wedding-specific menus available and one of these could be perfect for your big day. This blog will tell you more about one of these – our Alfresco Wedding Menu – which is a three-course feast to include Italian-style starters, a hog roast main with various side dishes and then homemade desserts to finish off your meal perfectly, so read on to see what it entails.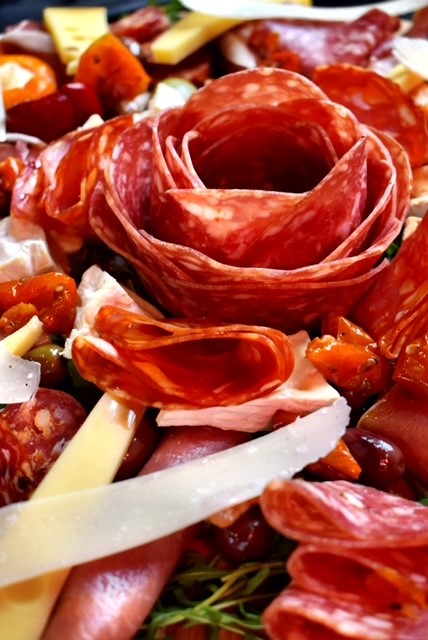 Our Hog Roast Tottenham Alfresco Wedding Menu is a great way to treat your guests to something a little bit different and your starter antipasti platters will surely wow them. You get to help yourself to fine meats of Prosciutto di Parma and salami, as well as Parmagiano, Gorgonzola and buffalo mozzarella cheeses and they're all accompanied by ciabatta, herb focaccia, breadsticks, balsamic vinegar and extra virgin olive oil. Then it's time to queue up buffet-style for a hog roast that comes with amazing trimmings of crackling, apple sauce and stuffing, as well as a potato option, coleslaw and salads, but don't forget to leave room for pudding! You get to choose two, such as cheesecake and profiteroles or summer pudding and chocolate torte.
For this gorgeous wedding menu or to find out more about our other scrumptious options, call Hog Roast Tottenham today.