If you're looking to hire caterers for any kind of celebration or commemoration, whether for a private party, corporate event or anything else at all, look no further than Hog Roast Walthamstow. What sets us apart from the rest is not only the mouthwatering food that we make out of fresh, local, high-quality ingredients but also the great amount of choice and variety that we have on offer and our dedication to ensuring that all of our customers and their guests can enjoy what we make, regardless of any special diets or varying personal tastes or appetites.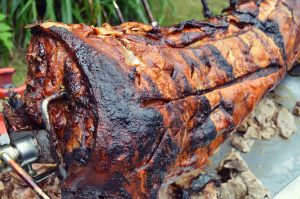 You may well have already decided on a stunning Hog Roast Walthamstow hog roast centrepiece for your next party, made into pigs in buns or plated meals with your choice of sides, but if you need to add any alternatives or supplemental dishes too, just say the word. While you're welcome to create your own menu yourself simply by going through all of ours and choosing what you want to be served, we can help you if you need or we can make you one of our standalone menus instead, like our Traditional Barbecue, Alfresco, Loaded Fries or Southern Slow Roast, where we've set it all out for you but you get to adapt it in certain ways.
If you'd rather design your own menu, you can decide on any number of courses – from one to several – so you could add a selection of handmade canapés to welcome your guests together with refreshments, or have us make starters, sides or desserts, or even all of the above. It's all up to you, depending on your wants and your guests' needs. As an example, we could spit-roast a whole English lamb, studded with rosemary and garlic, for you to enjoy with mint sauce and Yorkshire puddings, as well as either seasonal vegetables and potatoes, or fresh salads and coleslaw, or simply bread rolls and wraps, to be preceded by some canapés and a starter or two, and then a couple of homemade desserts to finish your meal off beautifully.
Whatever you're after, Hog Roast Walthamstow will make you proud, so call us today and see how.