Having the past 12 months with the occasional corporate work, but certainly not much has meant that the catering manager at Hog Roast Windsor has had the opportunity to look through the menu's and give them a revamp. For example, the gourmet BBQ menu now includes marinated chicken kebabs, meaty Chinese-flavoured spareribs, skin-on chips, crunchy coleslaw, and fresh Greek salad. With this revamp has come a change of meat supplier to a different local butcher that creates the most fascinating favours of sausage such as coconut and mango which are super refreshing! Additionally, the spareribs are super meaty and big, so you get a good fill rather than a skimpy, small one.
The best revamp according to the catering manager of Hog Roast Windsor, is the new Alfresco menu. It starts with a delicious antipasti boards with a selection of fine meats and tasty cheeses. It includes rustic-styled bread served alongside a selection of scrumptious nibbles that complement the meat and cheeses such as sun-dried tomatoes or small cheese stuffed peppers. The food items are delivered on a wooden board, making the delicious spread more appealing. The antipasti boards can be served as a grazing station for guests to help themselves with small bamboo plates and napkins or served to table with real crockery side plates.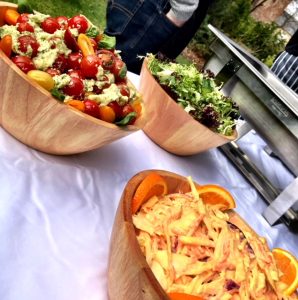 The main course of this super scrumptious menu includes the classic whole roasted pig with crispy crackling, succulent meat and tasty stuffing made from the juices of the pig to make it even more delicious. The hog roast is served with a potato option, Hog Roast Windsor would recommend the herbed-butter new potatoes as these go wonderfully with the salad dishes. The classic favourites are a Caprese-inspired salad of cherry tomatoes and buffalo mozzarella served with fresh basil leaves and a drizzle of extra-virgin olive oil, crunchy homemade coleslaw made from the freshest white and red cabbages, sweet red onion and hand grated carrots, mixed salad with a medley of different lettuce leaves, celery, spring onion and cucumber.
To finish, a choice of Hog Roast Windsor's amazing dessert menu. The profiteroles and lemon tart are particularly popular choices however, all the desserts are as equally divine as the other!
Book this new exciting menu now!