Hosting an event can be stressful- you have to choose a venue, a guest list, entertainment, and catering… it can be a lot of work to plan the perfect party. Sometimes, it can make your life much easier to decide on a theme for your party, as this can give you inspiration for the décor, entertainment and catering. Since we are in 2021, a roaring 20's party seems very fitting! Here is how Hog Roast Mitcham would cater for a 1920's themed party!
Hosting a 1920's party will usually come with a dress code for your guests, asking them to dress up in the formalwear of the time. This can be a lot of fun for everyone and is a great way to break the ice at the start of the night as your guests arrive. Another great ice breaker is serving canapes, which our Hog Roast Mitcham catering staff will serve on platters as your guests arrive. We have a wide selection, with olives, cheeses and devilled eggs being ideal for a 20's themed night.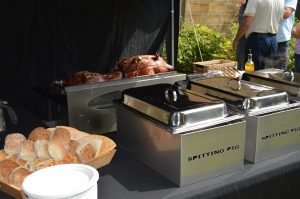 For the main course, we can offer our traditional Hog Roast Mitcham favourite- a slow-roasted hog, cooked to perfection on the day. You can also add additional meats such as turkey, chicken or lamb, depending on the size of your function. This will be accompanied by a selection of sides, such as new potatoes or potato dauphinoise, as well as a few salad options. Our main courses are served buffet style, with more than enough food to go around.
Once your main course has been served, we can move on to a selection of desserts- served either buffet style or tableside, depending on the formality of your event. Our recommendations for desserts include fresh fruit, chocolate torte and cheesecake.
Are you looking to host your own themed party? If so, get in touch today to book your Hog Roast Mitcham catering. We can work with you to produce your perfect menu that is sure to please your guests and be the talking point for the night!