Hog Roast Kew can provide tea and coffee. Tea and coffee is either included onto the menu or is a worthy addition, especially for the elderly members at an exciting wedding as this can be tiresome for them.
There are two ways that tea and coffee can be served:
Buffet Station – A serving table with a tablecloth will be set up at a location convenient to you and your guests. Two tea urns will be set up on either side of the table filled with boiling water providing two stations for people to receive from. Pretty storage jars will be filled with tea bags, coffee sachets, hot chocolate sachets, sugar sachets and stirrers for your guests to help themselves from. Depending on your event either jugs of fresh milk will be on the table or sachet milk. A bowl will be placed to collect any rubbish. Hog Roast Kew staff will empty this bowl and tidy up the station throughout the event. The buffet station can either have disposable cups or real cups and saucers. Hog Roast Kew likes to go the extra mile and lay out biscuits for guests to enjoy.
Served to table – Before your guests arrive, Hog Roast Kew will lay the tables with a cup, saucer, and teaspoon in each place. Additionally, a sugar bowl and teaspoon will be placed in the middle and a chocolate mint will be placed on the saucer. Before the tea and coffee is served, the team will place a jug of fresh milk on each table or for some who request it, cream. Hog Roast Kew's team will then go around with two pouring flasks asking your guests whether they would like tea or coffee and serving them what they desire.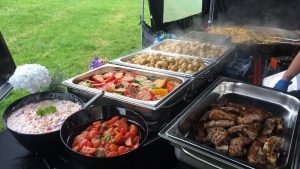 A buffet station works well at weddings so that people can get up and help themselves throughout the afternoon/evening. The disposable cups work perfectly at more corporate events where they showcase products so that people can walk around with them and dispose of them easily.
The serve to table service is the perfect finish to a formal sit-down meal.
If you fancy tea and coffee on your menu, why not enquire now?