If you're planning a wedding, you'll want to know you're in good hands when it comes to someone providing the food on your special day. We've catered for many marriage celebrations and take pride in the food that we supply and the service that we offer. We know how important the big day really is, are experienced in planning your catering in advance and are eager to ensure that on the day you, the bride and groom, have nothing to worry about when it comes down to the food experience.
When Paula and Ross contacted us to sit down and discuss a possible wedding feast, they had several concerns about how a hog roast works at a wedding. Hopefully we managed to alleviate any fears; we think we must have done, as they booked us for their event that day in Farleigh.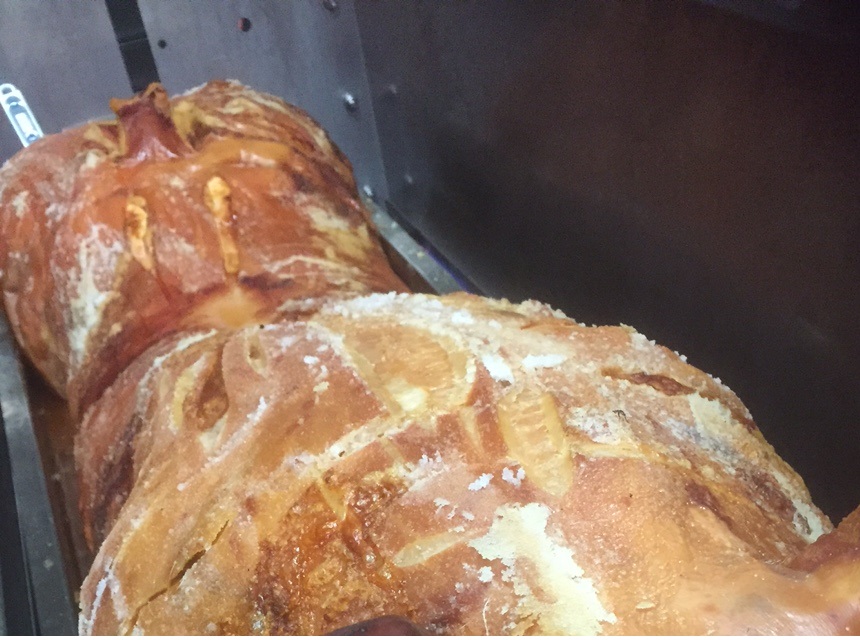 One of Paula's major concerns was about something she had heard about another hog roast company from a friend – that the food had actually run out before all the guests had eaten. As a proud chef, I was pretty shocked; I can't think of anything worse to happen at a wedding, because I'm there to provide food for all of the guests, not just some. It seems that the catering company must have miscalculated the size of the pig and how many it could feed. When you hire us, this won't happen. When helping to plan your wedding, we talk to you about how many guests you have and what size pigs (or other animals) can comfortably feed your number of guests.
For Ross and Paula's beautiful wedding, which we catered for at the weekend, they chose to have a hog roast in Farleigh and a free-range spit roasted chicken as their main dishes. We have lots of menu options and can also offer a catering package that is custom-made just for you, to suit your budget, if you prefer.
On Saturday, our team had a great time serving various delicious canapés, soup and salmon starters, roasted pig with crackling and chicken with chipolata sausage. Summer puddings and chocolate tortes rounded off an amazing day and the happy couple couldn't thank us enough for helping make their wedding day a big success.