We are always catering for someone's birthday here at hog roast Harlington and this weekend we were west catering for a regular of ours Harry who was going to be 60 years young. Harry loves our food and recommends us to all, he really is a loyal customer and we now consider him as a very good friend. We arrived at Harry's lovely little farm mid morning and there he was to meet us as always full of cheer! We chatted as we walked to the barn where we always cater from and as always if was all set out with tables and decorations all done by his very creative wife Sheila.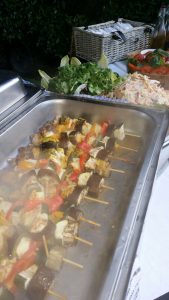 We left Harry to get ready and we began to cook the hog roast Harlington. We placed a nice size pig on the machine catering for 100 and more than enough meat to go around. As the pig cooked we then made some vegetable skewers one of Harry's favourites. We started placing red peppers, cherry tomatoes, button mushrooms and onions on long metal skewers and drizzling them in oil and set them aside to cook just before the meat was cooked. Our chefs were well ahead chopping lots of sweet potatoes into chunks and drizzling them in oil and herbs and spices theses are a great finger food are simple but delicious. On the tables we placed lots of huge baskets and filled them with rolls and wraps all freshly baked and made some of our amazing applesauce to go with the wonderful pork.
Harry and the guests arrived bang on time and harry as always stood and watched in awe as we caved the pork into huge thick slices full of juices and so tender it just fell apart. Harry said had been looking forward to this birthday for months just to eat a hog roast Harlington again. The guests helped themselves to the luscious meat and added some apple sauces and filled their plates with lots of sides, everyone was having a lovely time especially Harry who chatted to us about and introduced us to his friends who were full of compliments, we had a lovely day and as we left Harry shouted "Same place Next year?" to which we replied " Of course!" we just adore Harry.