It was the old folks Christmas party at the weekend and we had such pleasure in seeing there happy smiling faces as they ate their lunch of a hog roast Chigwell. We have catered from them before and they love to see us as we do too we have catered for a few birthday parties there in the past so we were so happy they asked us back to cater for the Christmas party.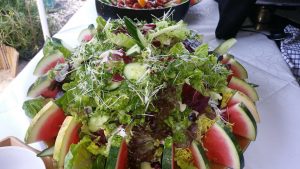 Hog RoastWhen we arrived Jim met us at the door as he always does and we chatted to him as we set up the machines the hall was decorated beautifully they had made such an effort. We placed the chicken breasts on the machine and then covered the table with some quiche; scotch eggs and sausage rolls all baked that morning. We then set about making the cheese board we placed lots of different cheeses on the board and lots of fresh home made chutney next to the cheeses for the guests to enjoy. We then placed some fresh rolls in baskets and made a lovely mixed salad and drizzled it in a lovely lemon dressing a particular favourite of theirs. The guests arrived and we began to serve, the chickens were so moist and supple and the chicken just fell apart the guests placed the meat in the buns and helped themselves to salad and dips Jim as always wanted to help so he helped some of the older guests make their sandwiches such a kind gentleman and we told him to sit down and we served him a lovely big plate of food full to the brim with hog roast Chigwell, the guests enjoyed some music and dancing and were having a lovely time and at the end the residents had a good old sing song with family and friends and it brought a little tear to our eye as it was so sweet.
We had a lovely time there and after we cleared everything away we chatted to the guests and we wished them all a very merry Christmas and a happy New Year and we know for sure we will most definitely be seeing them in the New Year for another hog roast Chigwell!