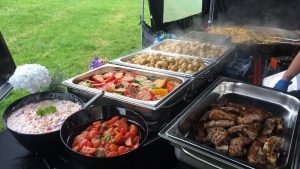 We woke to a blanket of snow Sunday morning so decided to set off earlier as we knew in the artic conditions we would have to drive slow. We were heading to provide a hog roast Morden for a Christmas party for regulars of ours, the boys brigade, and they were holding their Christmas party. We have got to know these guys pretty well over the years and catered for a few events so we were really happy we were asked to cater for the Christmas party.
Hog Roast Morden as usual and it is a favourite so as soon as we arrived we put the pig onto cook immediately. We were also going to make the wonderful crackling and lots of applesauce they tend to order the same every time they book and also wanted lots of our spicy wedge potatoes. We made a lovely fresh green salad and lots of dips for the meat and when the guys arrived they were full of chat and as usual taking lots of pics of the hog roast Morden! We removed the crisp crackling and they were all eager to taste the crackling, it is the best part and we are very proud of our crackling. The pork just fell off the bone and we shredded the meat the guys filled the soft huge buns with meat and salad and then there was silence as they tucked in! Then they were all coming over to us thanking us giving us compliments and saying how we are the best caterers around. They are a lovely bunch and we have grown really fond of them as we do with all our regulars.
We enjoyed a glass of egg nog and joined in with the carols and we felt Christmas was well and truly on its way! The snow started to fall really fast and everyone cheered we had a lovely day the smell of pork filled the air and as we said our goodbyes and wished each other well for the New Year we were again approached from guests for bookings, we never stop and that is what we love- being busy all year long.