Over the weekend, we had a truly fantastic time catering a children's birthday party with a hog roast Harrow. The theme was of a zoo and so featured a variety of zoo animals. From cheeky monkeys to curious meerkats and roaring lions, all the little ones and their accompanying parents looked like they had a riot and we had so many compliments from guests young and old that it was clear they all loved our food, too.
For Jensen's 9th birthday celebration, his parents decided to book him a kids party with a difference – a spectacular hog roast Harrow. Hog and spit roasts are becoming more and more popular every day and it isn't uncommon for us to cater children's parties these days. Jensen's family had already enjoyed our fabulous food in the recent past and for this occasion, his parents asked us to supply our pigs in buns, a large coleslaw, and fresh salad leaves and they would be providing the animal-themed birthday cake.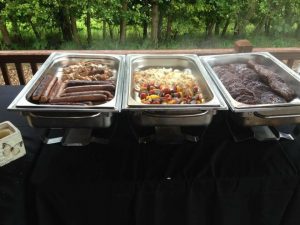 On the day of the party, we arrived early in the morning, ready to roast the pig that we had brought along for several hours. Once prepared, it cooked away as we kept watch, and in the meantime, the family home was transformed into a colourful, noisy zoo. From banners to paper lanterns, toys to masks, there were wild animals and birds to be found everywhere, both indoors and outdoors. We'd set up our serving station outside in the garden and were surrounded by animal sounds and sights the whole day.
When the guests started to arrive to the wonderful welcome aromas of a hog roast Harrow, it was nearly lunchtime, so serving time, and the pig needed a bit of a rest before we carved into it. Meanwhile, we got onto the salad dishes, dished up the sauces and stuffing and sliced the rolls, buttering them too, as asked by Jensen's parents. The queues started to form when Jensen (dressed as a convincing owl) announced by microphone that the birthday food was finally ready. Guest after guest munched away on our finger-licking hog roast rolls and they were all devoured in record time, along with all of the extras that we'd put together.