It's nearly time for Halloween to bring us plenty of witches and vampires and for Guy Fawkes Night to bring us glorious arrays of fireworks and bonfires. If you're planning a get-together at this time of year to celebrate either of these, or another occasion, of course, why not go all out and arrange for us to do your food catering? We can do a hog or spit roast, barbecue or even something completely different like delicious canapés and a three-course meal. Whatever your venue, wherever it's located, we can come out and take the weight off your shoulders so you can spend the time relaxing and enjoying time with friends and family instead.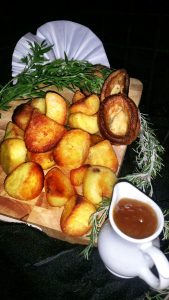 For a pre-Halloween vampire-themed birthday party, we did just that for Lee's daughter Anna recently, as she loves all things vampires. This includes TV shows like The Vampire Diaries, and teenager Anna was heartbroken when it ended for good in recent times, so her father thought it was a fantastic idea to have a surprise themed party for her this year. At this time of year, when it's time to get the jumpers out and wear thick socks in the evenings, our customers often want something a bit warmer for an outdoors hog roast Chertsey, and Lee asked us about having a hot plated meal rather than pigs in buns. He had loved those from us before, but thought the chilly air meant something even hotter for the party would be ideal. We told him about our winter warmer menu of sliced hog roast pieces, salty crackling bits and your choice of vegetables, and he asked us to provide roasted parsnips and butternut squash, plus a baked potato for everyone too.
Catering this party was a real pleasure, as everyone was so chatty and cheerful – even the teenage guests! We spent a few hours roasting the hog and then served the tasty food on better quality disposable plates. The meat was a huge hit, as it always is, and Lee was so glad that he had asked for the winter menu this time, as it helped to warm everyone up outside in the autumn air.  A lovely, autumnal hog roast Chertsey!