If you're catering for large numbers, a hog roast Northwood can be a great way to feed your guests and a sure-fire way to impress them. But did you know that it's also ideal for smaller parties? Even if you only have a handful of invited guests, we can easily cater for you, or you can rent our equipment and cook up a storm yourself instead.
As professional caterers, we don't just make it look easy to roast a hog – it actually is easy, as many people who have hired our machines will testify. We designed our own hog roast machines and made them simple for customers to use, so you can just turn the machine on and let it do all the work. Your main efforts will be concentrated on preparing the meat to be cooked and you'll also need to keep an eye on the pig as it slowly roasts, to ensure everything is as it should be. Apart from that, it's a doddle, as Ken found out when he hired one of our Titan machines over the weekend for a house party.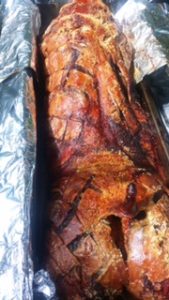 Having never cooked a hog roast Northwood before, Ken asked us to provide the pig for his first machine renting experience. We are happy to do this for any of our customers, if required. I dropped off the machine and the hog myself on Friday, and walked Ken through how to prepare the meat and how to use the Titan. I only left once he was happy with my instructions. Ken's intention was to apply a rub with sugar, herbs and seasoning to the meat and ultimately produce a pulled pork masterpiece for his friends and family members. I wished him luck and went on my way, eager to find out when I collected the machine on the Sunday if his dream had been a success.
Ken told me all about the fantastic time they all had while he prepared and then cooked the hog, and then they all pulled piles and piles of the tender meat off once it was done and had rested for a while. He laughed as he explained that he had forgotten all about the rub, but nobody minded as the meat tasted amazing anyway. From the looks of it, we've definitely gained a repeat customer in Ken!