At some point in your life, you probably wanted to be a superhero. I certainly did and I remember wanting a superhero party for my birthday as a child, too. Unfortunately, it never happened for me, but thankfully I got to enjoy a superhero-themed party at the weekend for Kenny's 10th birthday celebration, as we catered for the occasion with our delicious hog roast Brixton.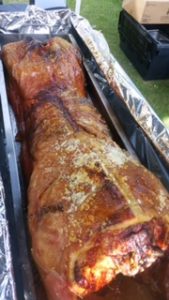 The birthday boy's parents booked us in months ago, wanting to ensure that we could provide our catering services for them in one of the busiest months of the summer. Already customers of ours, they have used us for a couple of parties in the past, and also hired one of our hog roast machines to do their own DIY hog roast Brixton at one point. For this event, however, they wanted the stress of the food catering to be passed over to us so that they could concentrate on other aspects of the party.
There were just over 40 guests invited to the party and the large hog that was requested would provide seconds or more and there would still be leftovers. Kenny's parents already loved the taste of our hog roasts Brixton and wanted us to strip the pig clean. Several family members and friends who couldn't make the party could still enjoy the taste of the meat in the near future, as the leftovers were to be frozen just for them.
We arrived at Kenny's family home on Sunday, ready to roast the 50kg beast for several hours. It was a beautiful, sunny day, thankfully, as we erected the gazebo and organised the serving table before preparing the pig. Once done, it slowly roasted away as the gardens were transformed into a superhero paradise, with Batman, Superman and Spiderman popping up everywhere in the forms of cardboard cut-outs, banners and balloons. My favourite was the Gotham City backdrop, which was surrounded by photo props like 'BAM! and 'POW!'.
Once the guests arrived, it was soon time for all the sauces and stuffing to be dished up and the bread rolls sliced, and then the hog roast itself could be sliced into, too. Kenny was first in line for one of our delicious pigs in buns and then he was off to save the world before joining the queue again soon after.