Our most popular food catering option is undoubtedly our delicious hog roast rolls. We cook a pig fresh at your venue from scratch, and you can certainly taste the difference. While many hog roast Forest Hill companies will turn up with a part or full-cooked pig, we believe that quality meat prepared and then cooked in front of you from start to finish and served as soon as the meat has rested is the way to go.
For Paul and Caroline's summery engagement party in the gardens of a local pub yesterday, they requested our hog roast roll menu and some side salads, so we turned up nice and early in the morning, ready to roast a hog for a few hours before serving the food at 1pm.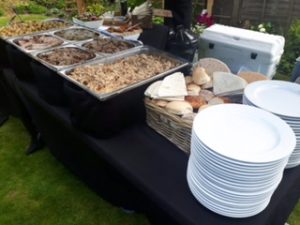 We set up the marquee and the catering equipment in the gardens (including our own trusty hog roasting machine, one of the ones we make ourselves). Preparing the pig for cooking doesn't actually take too long and is fairly easy to do once you know how, and as the chef of the day, I happily got on with that job. Once done, I needed to keep an eye on it as it roasted away beautifully.
Hours later, the guests arrived to a glass of bubbly served by our team. By this time, the hog roast Forest Hill needed to rest a little while so that the meat relaxed and got more tender. Meanwhile, we could prepare the salads, sauces, stuffing and bread rolls. We prepare everything at the venue on the day of your party or event, so that they salads are nice and fresh, as are the soft, floury bread rolls and all the sauces that we supply, including our popular homemade apple sauce.
A few minutes before serving time, I started to carve the meat and crispy pieces of crackling. Once the pig has been stripped clean and everyone's eaten their fill, if there's any food left over, that's yours for later if you prefer, as you can chill or freeze the meat. However, on this occasion, the guests loved it so much that there was barely anything left for later after they'd had seconds, thirds or even more.