As a chef, I love my job but some days I love it more than others. Take yesterday for example. I spent the day in a saloon bar, surrounded by cowboys and cowgirls, creating yummy pigs in buns! OK, so it was a saloon bar made out of cardboard and I was catering for a Wild West party with a hog roast in Thornton Heath that was full of kids in fancy dress but it was still a fantastic way to spend a summer's afternoon!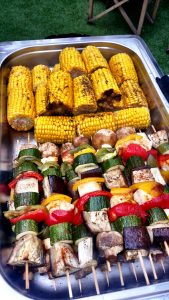 For Martin's 9th birthday, he asked his parents if he could have a party with a Wild West theme; by the next day they started planning it as they thought it was a great idea. Their first stop was Hog Roast Caterer London, asking if we could provide a hog roast in Thornton Heath for a party of 20 children and around 30 adults in a family member's huge back garden. We told Martin's parents all about our different options and they went with our super-popular Party Menu 1 – hog roast sandwiches, which is where we roast a hog at your venue and then make sandwiches out of the meat and crackling once it's done. They also asked for a vegetarian BBQ, with corn on the cobs and vegetable skewers to keep all their guests happy!
So yesterday our team arrived at the venue in the morning, ready to cook the pig for several hours in time to serve it for lunch. After preparing it and starting to cook, we watched as the garden was transformed into the American Old West. It was complete with a makeshift saloon, jail, and bank (the latter two 'buildings' would be used in games and our gazebo was part of the saloon, with the serving table and hog roast machine there too). Decorations of cacti, hay bales and Wild West characters were spread out over the garden, there were 'Wanted' posters featuring the birthday boy all around and cute props had been made and painted with words like 'TNT' and 'cattle crossing'. I was in Wild West heaven!
Once the guests arrived it was finally time to carve our succulent pig and put salty pieces of crackling and tender meat slices into fresh rolls for everyone. These were topped with our special stuffing mix and lovely apple sauce as usual. We had so many compliments from the guests, especially the kids on the hog roast in Thornton Heath, and then it was time for us to clean up as they got back to their piece of the American Frontier.