It sometimes surprises me how often we cater children's birthday parties these days. The sight of a roasting animal can impress many an adult, but sometimes kids are wary or even a little scared, especially if it's their first time. For Charlie's 11th birthday celebration that we catered for at the weekend, however, it was full of adventurous boys who were very excited by the whole spectacle of a sizzling hog roast in Holloway that filled the air around them with such delicious aromas.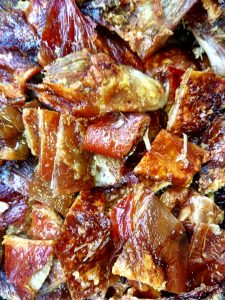 Charlie didn't want a themed party for this birthday, now that he's getting older and starting high school this year, but his parents wanted to do something special. They all discussed what his birthday party could involve and when Charlie suggested, "One of those spit roasts", his parents looked into the possibility online and found our website. We've been involved in catering all kinds of parties and events for many years now and we even hire out and sell our own machines. Charlie's parents couldn't believe how many options that we offer customers but they wanted their son to choose his own menu for his party, so we waited for another call.
Not long after, Charlie's Dad called us to book a scrumptious hog roast feast in Holloway, where everyone could enjoy freshly-sliced pork and crackling on floury bread rolls, together with our yummy stuffing and apple sauce. As the party was fairly small, with ten of Charlie's friends and a handful of family members, I could easily cater for this by myself.
I arrived at the house nice and early on Sunday morning, armed with a gazebo, serving table and hog roast machine, as well as a small hog that would feed all the guests with seconds (or thirds if needed), and there would still be some meat left over. Charlie's parents wanted the children's parents to try the pigs in buns, too, so once the party guests were fed I would be making lots of extra sandwiches to give out later.
Once the meat was perfectly cooked on the inside and a lovely, golden colour on the outside, it was finally time for everyone to sing happy birthday to Charlie and for me to feed all the hungry guests.