When it comes to Hog Roast Southgate catering your next special occasion, you may well want us to feature one of our stunning hog roast centrepieces; after all, they're what we're famous for and what we've perfected over many years. We use our own trusty hog roast machines to slowly but surely cook a hog roast over several hours, until we get salty, crispy crackling on the outside, and soft and tender meat that falls off your fork and melts in your mouth. It's a taste sensation like no other and one which will surely impress your guests from start to finish.
Nevertheless, Hog Roast Southgate also understands just how important it is for many of our guests to have the option of alternatives or additional food served at a party or event. You may need us to provide a vegetarian or vegan dish or one suitable for a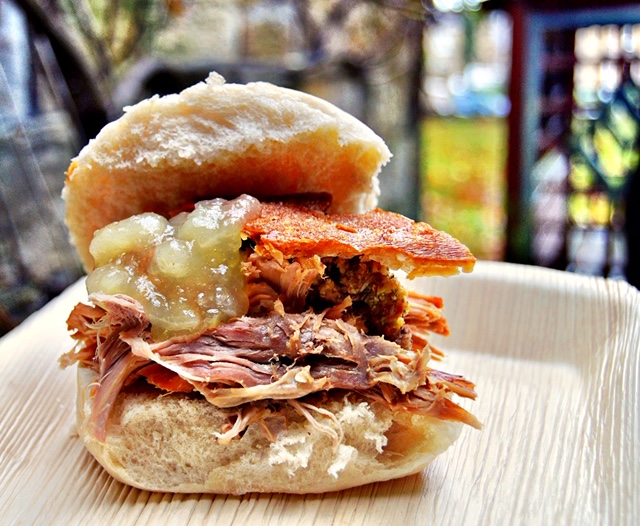 different kind of diet, and we have plenty of options for you to choose from in advance. You may prefer different meat to be prepared, cooked and served at your venue, like spit-roasted lamb, beef, turkey or chicken, or you may want one of our special menus, like our Loaded Fries or Southern Slow Roast. You may instead be planning a menu of multiple courses, where you want us to provide starters, mains, sides and desserts, or even canapés to start. With our experts, you can have all this and more! Whatever your needs, get in touch and we will work together with you to create the menu of your dreams.
Sometimes, however, one of our traditional hog roasts is exactly what is needed and for a business event that Hog Roast Southgate catered on Thursday, we slow-roasted a hog for more than five hours in order to feed the guests with our amazing pigs in buns. You may know them as hog roast rolls but either way, we cram hot, fresh meat and crackling inside bread rolls and wraps, top with our own apple sauce and stuffing, and serve to your heart's content. On this day, we satisfied everyone's hunger and by the time we left, everything had been stripped clean!