While Hog Roast Chiswick often caters private parties, weddings and corporate hospitality events, our delicious food is suitable for just about anything you can think of, and in the summer months, sometimes that will include catering something a little bit different. You may be thinking about planning a funfair, music festival, flower or air show or a historical event – whatever you have in mind, we will cater for your exact wants and needs and make a special occasion even more special.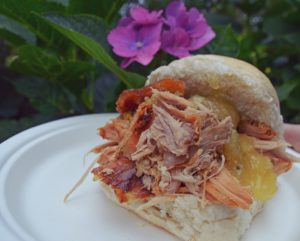 We understand that the needs of our customers and their guests will vary and that's why we cater for many different preferences, including dietary needs if required. Vegetarians, vegans and those on plant-based diets are just as well-fed as everyone else when you book our catering services and let us know your dietary requirements in advance, and if you need any other diet catering, we will do our utmost to feed those people just as well too.
Henry contacted Hog Roast Chiswick several weeks ago, with regards us catering a craft fair that he was organising. While we have a great array of tasty dishes available, from handmade canapés and desserts to various hot and cold sides and main courses to suit everyone, Henry knew that our famous pigs in buns would be just the ticket and a big hit on the day. Having enjoyed them himself in the recent past, Henry booked us in to make sumptuous pigs in buns for over a hundred potential guests and he also asked us to bring along gluten-free bread rolls, as he knew that our slices of heaven are already suitable for guests with a gluten intolerance or allergy, with the exception of the buns or wraps.
On the morning of the craft fair, bright and early, and while most people were still fast asleep, our Hog Roast Chiswick chef and catering assistants set up our equipment outside in the grounds and we soon had a huge hog sizzling away for hours on end, slowly but surely.
Five hours later and the hog was perfectly cooked inside and out, and we had queues of hungry people waiting for us to carve and make our luscious pigs in buns, including Henry, who could hardly wait!