65 is the new 25 we're told, at least that certainly seems to be the case for long time Hog Roast Willesden customer John who is looking to enjoy some of the best years in his life after retirement now. To kick off this new rip-roaring period of his life John celebrated in the only way you can: with a retirement party and a stylish dinner feast with Hog Roast Willesden! Family and friends from all parts of John's 65 years of life were in attendance, making for a total of 90 guests who were treated to the best in hog roast dining.
When John first approached us about his retirement plans he told us he didn't want to hold back for the celebration. He wanted us to pull out all the stops to make it an event to remember, and so that included providing drinks to all of his guests upon entry to get everyone nice and warmed up for a long night of festivities ahead.
As John greeted each and every guest and allowed everyone to mingle, the Hog Roast Willesden team kept everyone's drinks well topped up at John's insistence, while also circulating the room with a selection of canapés that included mini quiches, a selection of Indian foods, pan seared beef fillets, roasted tomato and halloumi crostini, and chicken skewers.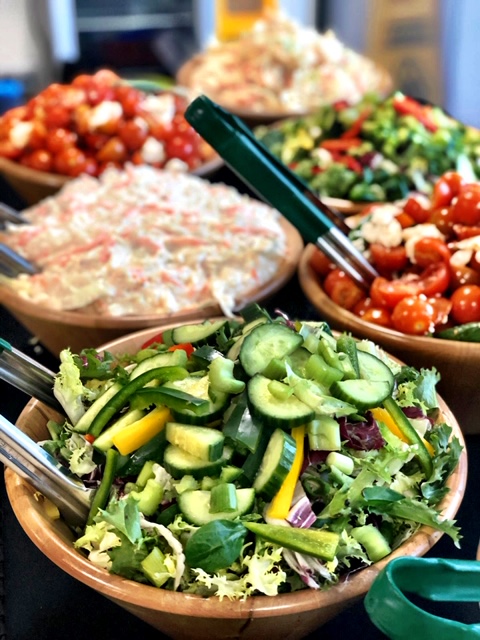 Once everyone had arrived guests were seated wherein John made a loving speech to thank everyone for 65 wonderful years of life, and to outline all his lavish plans for retirement – we can't pretend we're not a little jealous to hear of some of his upcoming plans! Following a toast to John Hog Roast Willesden were quick with main event, beginning with a starter of Roasted Breast Of Gressingham Duck. As a long-time customer John of course knows what to come to us for as well, so it was the hog roast as a main, along a whole roasted turkey as an alternative option, or BBQ pulled jackfruit. Our accompaniment of seasonal salads, coleslaw, fries, and roasted new potatoes filled out the rest of the main servings. Dessert was a choice between Tarte Au Citron, or John's favourite Sticky Toffee Pudding. To follow up all of the drinks and foods tea and coffee was served with mints while the stories of John's life continued long into the night!
Hog Roast Willesden wishes John all the best in retirement and hope that his new life plans at least still include us from time to time!