Birthdays are exciting occasions that the whole family can get involved in and enjoy – there's no doubt about it! But when it comes to the traditional act of gift-giving, it can often feel like things get harder and harder with each year that passes. So, what if we told you that Hog Roast Croydon has the perfect solution to your problems? It's true! Our finger-licking feasts not only make an excellent present for the recipient, but they also remove all catering responsibilities from your shoulders. Now, what's not to love about that?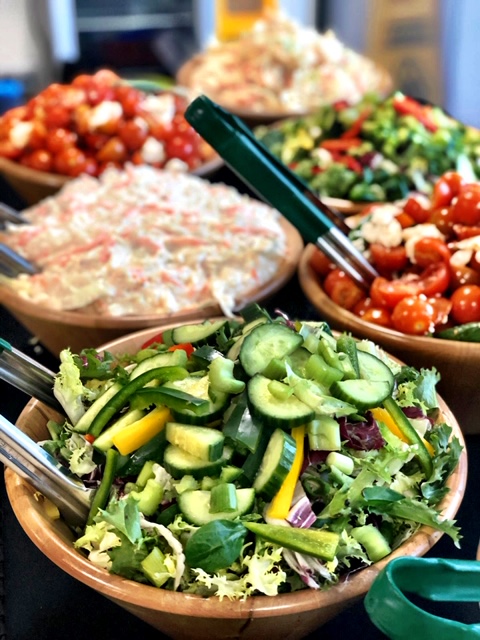 After reading all about us via our testimonials page and social media accounts, Arlene knew she had found the ideal resolution to her concerns about what to do for her husband Tyler's 45th birthday. So, without any hesitation, she picked up the phone to discuss her plans with Hog Roast Croydon, and within minutes she was halfway through booking the surprise event.
With it being her first hog roast experience, the client was grateful to have some guidance from our catering manager, who promptly recommended our southern slow-roast menu for this special day. As one of our more popular menus, this feast is a real crowd pleaser and never fails to impress our clients or their guests with its expansive range of flavour combinations which hail from the deep South.
Arlene managed to keep the entire party a secret from her eagle-eyed hubby who was none the wiser to her plans right up until the last minute! When Hog Roast Croydon arrived at the couple's home to get the preparations started, Tyler had been otherwise occupied by their daughter Sarah who had taken him out for a few hours. This gave our team plenty of time to cook and serve the spread which consisted of BBQ pork butt, Texan 24 hour beef brisket and Louisiana sticky pork ribs with golden corn on the cobs, Memphis style crunchy coleslaw, colourful salads and BBQ pulled jackfruit. Adding the final touches before Tyler's return, the crew lined up the condiments and dips alongside a basket of brioche rolls.
Tyler was lost for words when he returned home, not only to see Hog Roast Croydon occupying his back garden with a drool-inducing buffet but also to see his nearest and dearest ready and waiting with party poppers and balloons!