It was a Hog Roast Bexleyheath first for their latest event. It was a special birthday party for a history buff, and the client really took their passion to the next level. This 40th birthday party was one that the team from Hog Roast Bexleyheath are going to remember for a long time for all the right reasons.
The location of this fabulous 40th birthday party was a Roman Palace ruins! The 30 guests could relax and mingle, all the while learning about the local Bexleyheath Roman encampment from 2000 years ago! It really was a birthday party with a twist, some of the guests even came in Roman costume, which the birthday boy loved.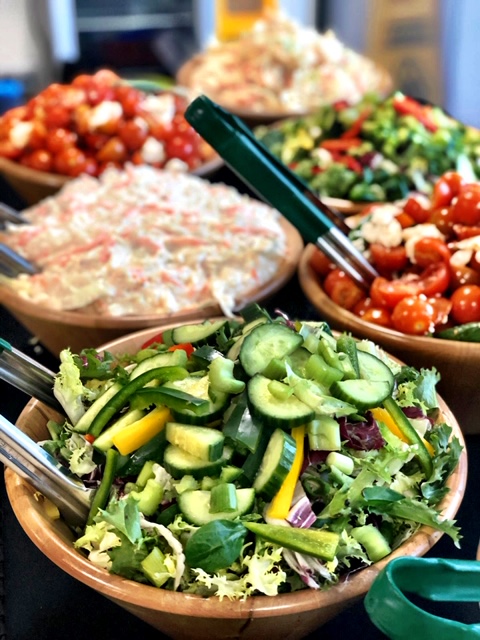 The menu for the buffet that the birthday boy chose was a simple Classic Hog Roast. There was a succulent slow roasted pig, with crispy crackling and homemade stuffing for all of the lucky guests to enjoy. That wasn't all however! There was a small mountain of soft, gluten free bread rolls, plain grilled vegetable skewers and an array of tasty dips for the guests. Finally, rounding off the delicious buffet was a big platter of loaded sweet potato fries; these sweet fries were loaded with shredded cheese and the Chef from Hog Roast Bexleyheath could also add some pulled pig to the melted mix too if the individual wanted.
The guests absolutely loved the buffet offerings, they also loved the high quality wooden bamboo crockery and cutlery that the team had provided for them to use for the buffet. That, along with the ample of outdoor seating for the laid back party really added a sense of fun to the party.
The dishes for the buffet were all made fresh on the day of the party at the venue. The Chef from the Hog Roast Bexleyheath team set up his equipment several hours prior to the 4pm serving time, making sure to give himself plenty of time to create the delicious dishes.
The event was a magical sight to behold, guests lounged around or learned about the Romans and the birthday boy was absolutely beside himself with happiness. It was all he wanted and more.