You may well know Hog Roast Greenwich as first-rate caterers who provide tasty dishes made from fresh, wholesome ingredients, but we also have more strings to our bow too, like training others to cater just like us, as well designing and building our own range of hog roast machines that we sell all over the world. We use our trusty machines ourselves when catering, of course, and we also hire them out to professional chefs and domestic cooks who want to DIY using excellent equipment that create perfectly-cooked meat, and not just hog roasts. You can use our hog roasters to cook spit-roasted meat as well as barbecued, and as we designed them to work like conventional ovens, you can even cook lots of other food using them, so for instance, you can cook vegetables and potatoes inside the machine while your meat is sizzling away above.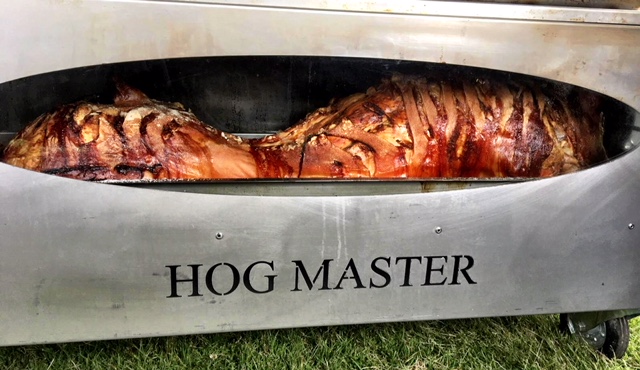 Whether you are looking to rent a hog roasting machine for your own catering business, or for your own party or event, like a birthday party at home or a school fundraiser, Hog Roast Greenwich is the perfect choice, as you get our expertise and knowledge as part and parcel of your hire. We don't just leave you to it when we drop off a machine to your choice of venue, as we want to make sure you get the best out of it, so we show you how to use it and give you tips to make sure you use it to its potential for the type of meat you're cooking. Delivery and pickup are both included in the price we quote, and there are no extras to pay unless you want us to bring along the meat that you'll be cooking. Sourced from trusted suppliers of butchers and farmers, we can always provide high-quality, fresh meat but only if needed, if you're not sure where to source it yourself.
When Lizzie hired one of our machines recently, it was so she could try this way of cooking for herself at home with friends and family, and after one of our Hog Roast Greenwich chefs walked her through it, she told us she had an absolute blast cooking her first-ever hog roast, and we're sure she'll be renting from us again soon.