Over the years Britain has been somewhat ill prepared for the snow. Whenever it falls, the whole country seems to grind to a halt: flights and trains are cancelled left right and centre; the schools tell their children to stay at home; motorways become gridlocked, and it always, always makes the news. With that in mind, our latest client could be forgiven for thinking that his event would have to be cancelled when the snow started falling this week. John wanted a Hog Roast to celebrate his birthday, but only had space for our machine outside in his garden and he was worried that this was going to be a problem.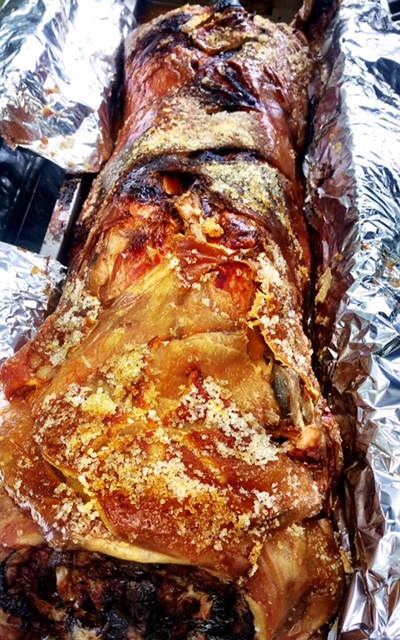 Fortunately however, John was wise enough to hire the team at Hog Roast Kew, who are never ones to shy away from a challenge. With the help of a Gazebo and warm winter clothes, the Chef was able to set up the Titan machine outside in the snow, and had the hog roasting hours before the guests were due to arrive. The cold temperatures did add to the cooking time, but the chef was well prepared and all the food was served on schedule.
On the menu tonight were our famous Pigs in Buns, served with a selection of sauces as well as an array of canapes including the Mini homemade Beef Burgers, the Mini Quiches and Mini Pizzas topped with sliced Greek Olives. In addition our chef also served up his special Sticky Toffee Pudding with Yummy Toffee sauce. The thirty or so guests were free to pick from all three courses throughout the night, as the chef kept the food warm in our well heated chafing dishes. The wonderfully golden Hog was particularly popular, with one lady describing the pigs in buns as tasting 'sensational' as she indulged in thirds.
In the end the cold was no match for the team at Hog Roast Kew, who once again used their expert knowledge and professionalism to cater for another successful event. With rosy cheeks and stiff joints, the team tidied everything away discreetly and left our guests to enjoy their night.